Conversational
Commerce™
Digital Twin To Your Physical Business™
We
Automate

conversations to delight your customers, and increase revenues with the power of communication
We
Scale


your business by digitizing your systems that doubles your workforce with no additional hires
We
Enhance


complex workflows using
AI technologies to eliminate bottlenecks
Delight your customers by giving them a digital experience without the frustrations of an eCommerce site! Convert your sales and supply chain teams from order takers to order managers. Automate and optimize your operational efficiency by over 60% using our "Conversational Commerce" technology.
Digital transformation is less about transforming your business and more about optimizing your operations. It involves engaging all your functional areas to re-imagine your value from your customer's perspective. Digitizing your internal processes and utilizing your data for insights is the first step in that direction. We understand the confusion and will help you navigate your technology challenges.
Unshackle from
your ERP's limitations.
Revalgo's easy-to-use UI converts your customer's demands into sales orders with a click of a button!
Our platform monitors your emails, text messages, voice calls, chatbots, and all messaging applications 24/7 to isolate any customer's requests to place a new order, check for price/availability, or update an existing order. Your customer's demands are automatically converted into a sales order or quote in your ERP with an appropriate response to your customer.
See all customer requests in their raw form and the conversion by our AI, all on the same page, so you can decide when to automate the process entirely.
AI that you CONTROL
AI that LEARNS
Be where your customers
are having conversations
including emails, texts, Messaging apps like WhatsApp, chatbots, voice calls, and the Metaverse
No, your customers do not need to use part numbers or special forms. Plain English conversations excel files, PDFs, and handwritten notes; we consider them all equal. And in the future, when virtual worlds like the metaverse become a reality, unleash your digital sales team in these virtual worlds and open new revenue streams without adding any costs.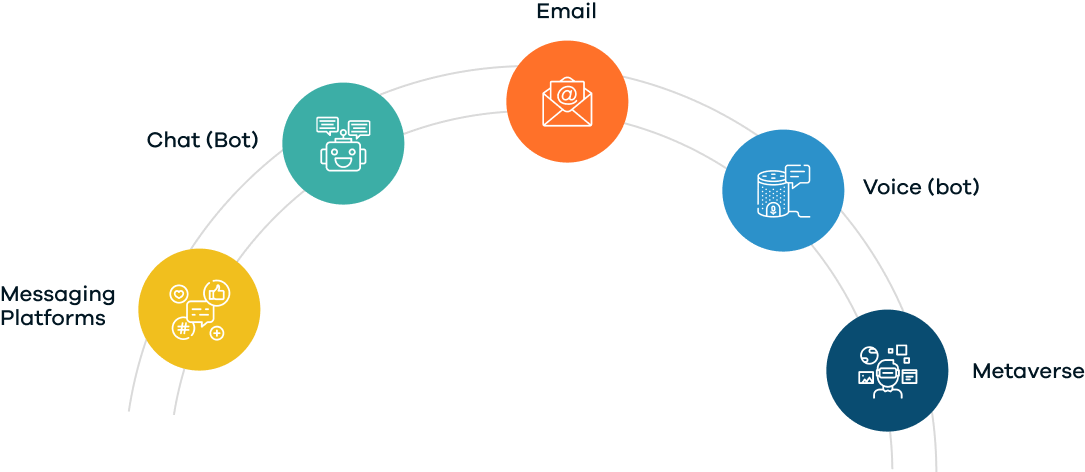 What will a digital twin of your business do for you?